APPLICATION
to
THE OHIO STATE BOARD OF EDUCATION
for
COMMUNITY SCHOOL
PRELIMINARY AGREEMENT
for
The Ida B. Wells Community Academy

Submitted: December 8, 1998
novi quid ex Africa
"Everything new comes out of Africa" – Pliny
Appendices
ESEA Proposal for Start Up Funding

Community School Development Team:

| | |
| --- | --- |
| 1. Edward W. Crosby, PhD, Co-Chair | 10. Tracy Thornton |
| 2. Emma Jean Calhoun, Co-Chair | 11. Jackie Jackson |
| 3. Perkins Pringle, Certified Teacher | 12. Robert Deitchman, PhD |
| 4. Raita Bilal, Certified Teacher | 13. Juanita K. Martin, PhD, Psychologist |
| 5. Dean Seavers, MBA, Marketing Plan | 14. Ronald McClendon, PhD |
| 6. Elbert R.B. Pringle, Esq. | 15. Jackie Garrett |
| 7. Gregory Dortch, Accountant | 16. Sherman Roberts |
| 8. John Fuller | 17. William E. Calhoun |
| 9. Herman Oden | 18. Deborah Wilcox, PhD |
Contact Person: Edward W. Crosby, PhD
Address: 437 Silver Meadows Blvd
Kent, Ohio 44240-1913
Telephone: 330.673.9271
e-Mail: IBWCA@netscape.net
Proposed Community School:
Name: The Ida B. Wells Community Academy (IBWCA)
District in which the proposed community school will be located:
Akron Public School District (Summit County)
Age/Grade Level(s) or other descriptor of the school's intended Students:
Elementary Grade Levels Primary: Kindergarten, 1st, 2nd, 3rd; Intermediate: 4th, 5th
Middle Grade Levels 6th, 7th, 8th
Secondary Grade Levels 9th, 10th, 11th, 12th
Projected School Enrollment During First 5 Years

| | | |
| --- | --- | --- |
| 45 | Year One | Kindergarten, 1st, 2nd |
| 75 | Year Two | Kindergarten, 1st, 2nd, 3rd |
| 105 | Year Three | Kindergarten, 1st, 2nd, 3rd; 4th |
| 135 | Year Four | Kindergarten, 1st, 2nd, 3rd, 4th, 5th |
| 165 | Year Five | Kindergarten, 1st, 2nd, 3rd, 4th, 5th, 6th |
Total Initial Number of Certified Staff: 3
Student Teacher Ratio: 15:1
The Total Number Certified Teaching Staff for the five-year period: 11
The Student:Teacher ratio for each of the five years will be maintained at 15:1
If the proposed school intends to serve at risk students, define the profile of the targeted at risk students
The Ida B. Wells Community Academy (IBWCA) will serve students residing within the Akron City School District. IBWCA's student body will include low-income, under-achieving and under-served inner-city youths. The IBWCA will also include in its student body those students with physical, behavioral and learning disabilities, and teenage girls with children. Even though IBWCA's mission is to eventually serve students from Kindergarten to High School, initially, it will serve only students in kindergarten through the 2nd grade, adding one grade per year thereafter. Students will be admitted to IBWCA in accordance with the Ohio Revised Code, Chapter 3314.06 which stipulates that "there will be no discrimination based on race, sex, religion or handicapping condition. . . . Admission will not be limited to intellectual ability, measures of achievement or aptitude, or athletic ability." The number of students IBWCA can serve is limited; after year one, enrollment preference will be given to continuing IBWCA students and their siblings. Other students will be accepted by lottery provided space is available.
IBWCA will serve at-risk students according to the following profile.
At-risk students, as we define "at-risk," are those inner-city, low-achieving, low-income, under-served and under-challenged students as well as those students with behavioral and/or learning and comprehension problems in Akron, Ohio's traditional public and private schools. By under-challenged we mean those students who are intellectually average and above average but are not sufficiently challenged in the public school system and will become, if not challenged intellectually, a school dropout. IBWCA also includes in its at-risk designation students with physical, behavioral and learning disabilities. IBWCA, because of the ages and immaturity of students in the primary grades, will serve at start-up those at-risk students classified as inner-city, low-income, under-served or under-represented, and those with physical disabilities. Later, as it adds grade levels, IBWCA, will undoubtedly enroll increasing numbers of low-income, under-served and under-challenged students with or without physical, behavioral and learning comprehension disabilities.
Why will parents choose to send their children to the proposed community school?
The Ida B. Wells Community Academy's market research generated data that supports our assumptions that there are sufficient numbers of so-called at-risk students, as defined above, residing within the metropolitan boundaries of the City of Akron and are currently attending Akron public and private schools. This data also attest to a pool of children who will come of age and attend district schools in a few years. Moreover, a cursory examination of the data presented, particularly the suspension/expulsion percentages, the numbers of disadvantaged students, the dropout rates and the number of low-income families black and white undergirds IBWCA's move to establish a student- and parent-friendly learning environment. According to the 1990 U.S. census, the population of Akron has a median income of $32.000; the African American population by contrast has a median income of $18,709 with 50% of population below the poverty level (11,325) and 125% of the population or 22,314 persons below the poverty level. Of the 32,331 young people enrolled in the Akron public schools, 46.8 are African American. There are approximately 9,914 African American school-age youngsters between ages 5 to 14 years residing in Akron. Since the total population of the city is 223,019 and its residents enjoy a very modest median income (the District reports a median income of only $21,006), it is clear there is also within the white community a substantial number of youth who can be defined as at-risk and under-served. This view is augmented by the number who dropout and are suspended, even though they are admittedly lower than those for African Americans. It is further strengthened by the disparity in the average for African American honor students (7.2%) when contrasted with that for white honor students (15.6%). Therefore, given these data, it is apparent that we will
experience success recruiting a critical mass of low-income and other at-risk students from the general Akron, Ohio community.



Table 1. Grade-by-Grade Enrollment
1992-1993 to October 1997
Akron Public Schools
| | |
| --- | --- |
| Year | Student Enrollment |
| 1994-95 | 33,197 |
| 1995-96 | 32,095 |
| 1996-97 | 31,992 |
| October 97 | 32,331 |
Table 2. Student Enrollment by Level
| | |
| --- | --- |
| Level | Number of Students |
| Elementary | 16,503 |
| Middle | 6,351 |
| Senior High | 8,687 |
| Teenage Parents Center | 49 |
| Saturn School | 10 |
| Overage High School | 174 |
| Miller South | 425 |
| IPP Students | 132 |
| Total | 32,331 |
Table 3. Report Card Data for Fiscal Year 1997
Akron Public Schools (IRN 043489)
Summit County
District Female
Suspension
Percentage

District Male Suspension Percentage

District
Black Suspension Percentage

District White
Suspension
Percentage

District Female Suspension
Average

NA

NA

NA

NA

2.3

District Male Suspension
Average

District Black
Suspension
Average

District White
Suspension
Average

District Black
Dropout Rate
Average

District White
Dropout Rate
Average

2.3

2.4

2.2

28.7

24.4

District
Attendance
Average

District Black
Attendance
Average

District White
Attendance
Average

District
Disadvantaged
– Current Year

Average Number
Student:Teacher
– Current Year

90.3

89.4

90.8

35.2

21.2

District
Black Honors
Average

District
White Honors
Average

District
Disabled Student Rate

District
Enrollment
– Current Year

District Median
Income

7.2

15.6

12.2

31,992

21,006
Source: The Ohio Department of Education Web Site Report Cards at www.ode.ohio.gov. Alldata, unless otherwise noted, are based on 3-year averages.




Table 4. 1996-1997 School Year Percentage
Students Suspended by High School
School

Percentage of
African American
Students

Percentage of
Suspensions to African
American Students

Buchtel

97

98

Central-Hower

53

70

East

37

44

Ellet

22

30

Firestone

44

72

Garfield

39

51

Kenmore

31

54

North

35

47
Source: Equal Access to Education Association, Akron (as reported in the Akron Beacon Journal — www.ohio.com.)



African American, white, Native American and Latino inner-city communities, for parents will learn that IBWCA should be their school of choice and that they should enroll their children. To confirm this notion in the public's mind, IBWCA's developers have already and are now conducting a community-wide survey to document community choice. We believe the personalized educational program and student-friendly curricular structure, design and delivery system will be a major attraction. IBWCA's and the general public's emphasis on increased academic expectations, moral and social responsibility, and increased proficiency ratings will influence parents to enroll their child(ren) in the Ida B. Wells Community Academy.




The Ida B. Wells Community Academy
Program Harmony Model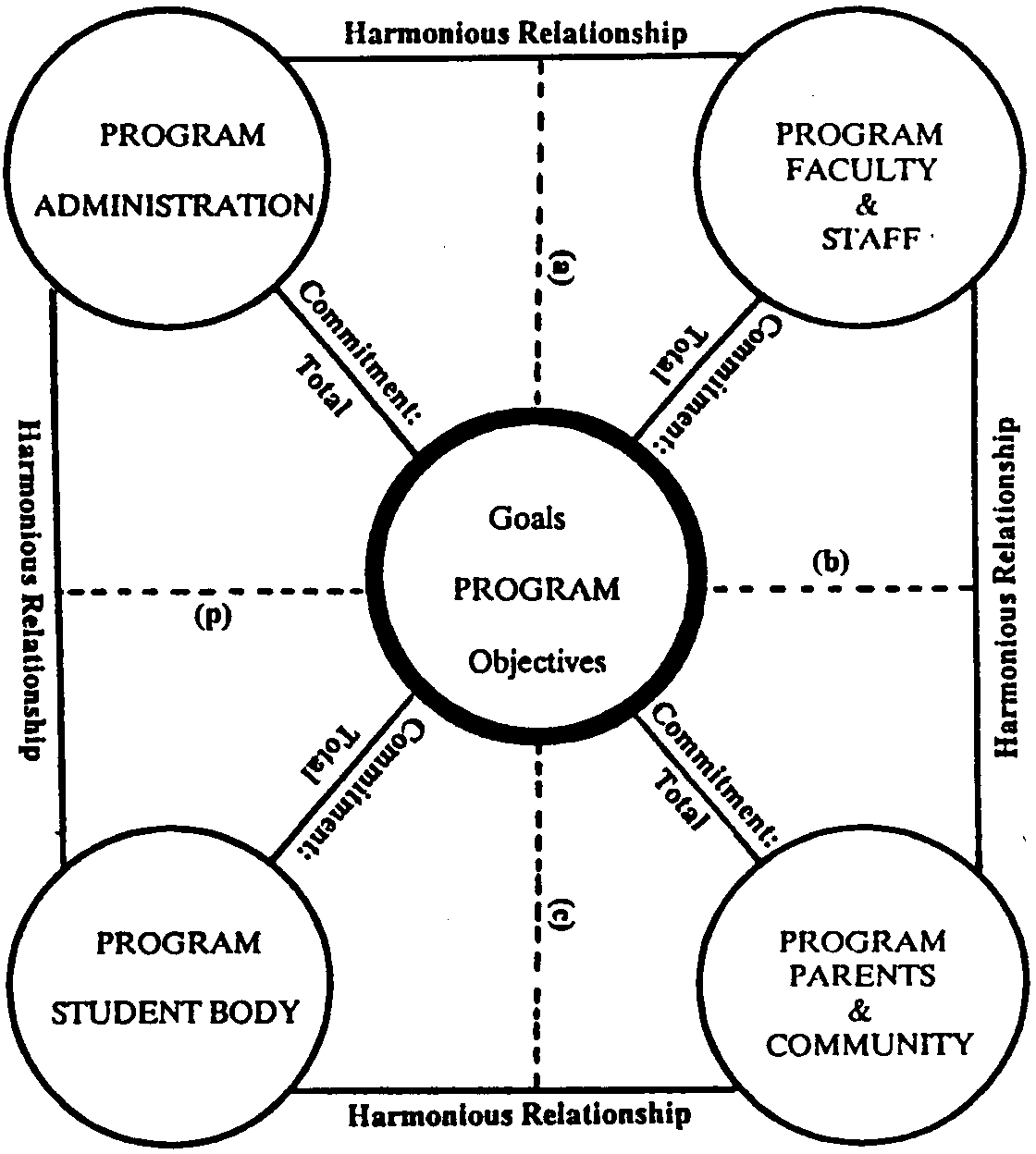 Figure 1. Based on the "Program Harmony Model" developed by the late Professor Fela Sowande in 1972, and modified by Edward W. Crosby, Chair, Department of Pan-African Studies, Kent State University in 1989.
Furthermore, IBWCA's intention to involve parents, students, administrators and the community in meaningful critical operational activities throughout IBWCA's start-up and operational phases is usually not replicated in traditional public and private schools. These activities include teaching, administrative and governance functions, committee assignments of various sorts, e.g., discipline, curriculum, student recruitment and admissions, faculty/staff hiring and training, transportation, fund raising, and facility management and identification. Their children will attend an educational program wherein they, too, will have a role in the program's operation and governance. IBWCA's program structure and continuum of educational options and procedural safeguards will be designed to meet the needs of students with disabilities. This will, therefore, persuade parents to choose the Ida B. Wells Community Academy over some other educational program.
What will be the mission of the proposed community school?
IBWCA's mission is initially to educate youth (5 to 11 years of age) in Kindergarten through the 6th grade in an innovative, holistic educational atmosphere (1) that is personalized, problem-posing and problem-solving, (2) that is centered in the humanities, mathematics, the physical and natural sciences, civics (citizenship), the arts, the social sciences, and African and world culture studies, and (3) that emphazises preparing students to pass at the 75th percentile or better on the fourth and sixth grade proficiency tests, (4) is a fully democratic and participatory educational process and (5) has a well conceived policy outlining the rights and responsibilities of parents, students, teachers and administrators. In addition, IBWCA aims to help students understand the relationship of a quality education to their present and future lives. IBWCA will add one grade each year until it reaches the High School level in 2010 or sooner. Therefore, it will serve all school ages from 5 to 20.



Table 5. Enrollment by Ethnicity
1994-1995 to October 1997
Akron Public Schools
---
Year and Percent of Total Enrollment
| | | | | |
| --- | --- | --- | --- | --- |
| Ethnicity | 1994-1995 | 1995-1996 | 1996-1997 | October 1997 |
| American Indian | 0.1% | 0.0% | 0.1% | 0.1% |
| Asian | 2.1% | 0.8% | 2.0% | 2.0% |
| African American | 43.9% | 44.5% | 45.9% | 46.8% |
| White/Caucasian | 53.8% | 53.0% | 51.5% | 50.5% |
| Latino/Hispanic | 0.5% | 0.5% | 0.5% | 0.5% |
| Total | 33,197 | 32,095 | 31,992 | 33,331 |
It is interesting to note that the City of Akron's under-represented population is 26% while the District's under-represented population is 49.5%. There is a concentration of under-represented students in one cluster of schools on the west side of Akron.
---
Source: Tables 1, 2 and 5 were excerpted from A Curriculum Management Audit of Akron Public Schools, Ohio. The
audit was conducted by the Internal Curriculum Management Audit Center, Phi Delta Kappa, August 1998.




Describe the school's educational program and goals

The Ida B. Wells Community Academy will introduce its students to a culturally integrative curriculum designed to infuse content that is at once nurturing, stimulating, intended to engage students' intellectual curiosity, and imbue in its students a mutual respect for learning proficiency, competence and self direction not only in traditional learning objectives but also in the attainment of knowledge of their cultures, traditions and values. Students will also learn to appreciate themselves, their fellow students, their families, their community and their nation. The Academy's goal includes creating a responsive and innovative learning environment that will instruct students based on these programmatic objectives:

1. to prepare students to function competently and productively in an ever more complex global society,

2. to achieve increased academic performance expectations and measured proficiency results,

3. to increase students' daily attendance records and implementing creative disciplinary methods to reduce suspensions and dismissals,

4. to involve the professional community residents, parents, retired teachers and students directly in the learning process,

5. to design a curriculum partially reliant on the learning potential of the World Wide Web to augment class assignments and individual student research,

6. to assure students and parents that they will be able to transition, with ease, out of IBWCA into the Akron Public Schools or an equivalent public educational system, and

7. to provide students, parents and faculty/staff with a detailed handbook that clearly states their rights and responsibilities. The rights of all students, parents and faculty, including those guaranteed by the Constitutions of the United States and the State of Ohio, and by applicable federal, Ohio, and local statutes, and the right to a quality education, are and shall be recognized without regard to race, religion, sex, disability, or intellectual ability. Student responsibilities include regular school attendance, conscientious effort in classroom work, conformance to school rules and regulations, and the responsibility not to interfere with the education of fellow students or the orderly operation of the school. These rights and responsibilities, as they pertain to students, begin with kindergarten and extend through the twelfth grade.

Provide an overview of the proposed school's curriculum and curricular focus

The Ida B. Wells Community Academy's curriculum will provide instructional content that is nurturing, intellectually stimulating and intended to imbue in its students a mutual respect for learning proficiency, competencies, and self-direction not only in those learning objectives or benchmarks recommended by the Ohio Department of Education's Competency-Based Program for Mathematics, Social Studies, Science, Language Arts and Literature, and Foreign Languages, but also by the U.S. Department of Education's Office of Educational Research and Improvement.

An additional IBWCA goal includes the establishment of a learning environment supported by a socially responsive curriculum that will rely on the learners' experiences at home, in their neighborhoods, in the community, and in the society in general as far as possible and practical. IBWCA will instill an awareness and mutual respect for other people(s), their cultures, aspirations, traditions and values. In short, the curriculum will help students recognize how their learning is integrally related to their lives in the present and in the future.

IBWCA's curricular content at each grade level will be structured to produce the following expected and measurable performance outcomes as cited in the Ohio State Board of Education's mandated Learning Objectives. Broadly speaking, these learning objectives include modes for reading, writing, mathematics, science, and civics (citizenship) and social studies. It must be emphasized here, however, that these performance outcomes are only representative of the Ida B. Wells Community Academy's curricular foci. It should also be emphasized that IBWCA will design structured learning activities based on individual student interests and needs. Therefore, the performance outcomes enumerated below do not necessarily reflect all of the faculty's anticipated performance expectations. Overtime, given IBWCA's emphasis on allowing its students to grow at their own pace, we expect the students will show even higher levels of performance.

At the end of Kindergarten students should be able
to sort objects by color, size shape, weight; create, recognize and repeat patterns with blocks, cubes, sticks or tubes; recognize numbers and relate them to numerals; match objects with one to one correspondence; separate and join sets of objects; use counters to visualize abstract mathematical concepts; compare objects according to various lengths and weights;
to prepare, expound on and maintain a personal learning log or journal;
to identify letters of the alphabet — consonants and vowels;
to recognize various occupations via pictures, i.e., mailman, store clerk, teacher, minister, ballplayer, etc.;
to understand various life cycles: young to old, caterpillar to butterfly, tadpole to frog;
to recognize seasonal changes, e.g., winter, spring, summer, autumn, and the aging process of humans and other animals;
to recognize various astronomical elements — sun, moon, stars, planets; and earth science phenomena — wind, snow and ice, rain, water, fire, etc.;
to read and use maps, photographs, pictures, the globe and other learning tools to identify life at the home, family relationships, school items — desks, chairs, tables, etc.; demonstrate position words — above/below, left/right, front/back, up/down;
to understand the need for rules and regulations and good in-school and at-home behavior;
to use symbols to describe various problems or situations; predict, draw, act out and/or solve problem situations;
to demonstrate an awareness of different places to live for people, insects, and animals;o recite poetry of various sorts from nursery rhymes and children's literature and sing songs related to learning topics;
to demonstrate artistic and muscular coordination via finger painting, dance, simple gymnastics, etc.;
to exhibit an elementary ability to pronounce and use various selected greetings in a foreign language, e.g., Kiswahili. The instructor's availability and skills will determine which African language is taught.
At the end of first grade students should be able
to sort objects using multiple attributes, e.g., small/large, uni-/bi-dimensional, round/ square;
to extend missing elements of repeating patterns/numbers; separate and join numerical set;

to count forward/backward to 100 by ones, twos and fives; identify even and odd numbers; identify ordinal numbers, 1st, 2nd, 3rd, etc.; recognize when to add or subtract, describe in words and symbols; demonstrate ability to do simple addition and subtraction and recognize and write simple fractions — ½, ¼, ¾; tell time on the hour and half hour and tell time in 15 minute intervals; count pennies, nickels and dimes;
to identify needed and not needed information to solve problems, mathematical or otherwise; explain a problem situation using a drawing or picture (photograph); demonstrate to solving a problem using patterns or the manipulation of objects; match objects with one to one correspondence; separate and join sets of objects; use counters to visualize abstract mathematical concepts; compare and order sets according to more, less or same;
to observe, describe and sort various objects — inanimate and animate — and place them according to category; recognize various racial, ethnic and national types;
to demonstrate ability to find places on the globe or world maps, United States, Africa, Europe, Asia;
to manipulate and combine shapes and sizes of objects in the environment — uni- and three dimensional, circle, triangle, flat, square, cube, cylinder, cone, etc.;
to demonstrate an awareness of life cycles;
to prepare and maintain a personal learning log or journal;
to understand how plants and animals are dependent on other plants and animals;
to read maps, photos and simple diagrams and graphs; grasp how families need food, clothing, and shelter;
to understand various occupations as well understand the people live in neighborhoods, states, and countries;
to demonstrate an increased ability to pronounce and use greetings, names of things and places, and longer phrases of three or four words and speak an African language with limited fluency.
At the End of Second Grade students should be able:
to use a number line; read and write three-digit numbers and round numbers up or down to the nearest five, i.e., is 13 is closer to 10 than 26? or is 20 closer to 18 than to 30?
to add and subtract double-digit numbers and measure length and width in inches and centimeters using a ruler;
to construct and use matrices for addition, subtraction, multiplication;
to understand and use maps, photographs; read graphs; demonstrate an understanding of the occupations of their parents, neighbors and relatives; how people in their community and other communities earn a living;
to solve and pose problems based on situations they have experienced or stories they have read and heard or that they have made up;
to prepare and maintain a personal learning log or journal; summarize information gleaned from reading assigned or self-initiated; memorize poems, songs and pledges;
to conduct independent research on topics related to animals, insects, or people and their occupations;
to show an increased pronunciation and conversational ability in an African language — greetings, names of things and places, and longer phrases of several words and short readings, e.g., proverbs and aphorisms.
At the End of Third Grade students should be able:*
to demonstrate ability to place data on line plots; group and count by 100s, 1,000s; compare and order number sequences up to hundred thousands; add and group and regroup amounts up to hundred thousands;
to estimate answers to addition problems; to add, subtract, multiply, and divide three-digit numbers;
to know how to collect and organize information on the world — geologic, geographic, environmental; explain the meaning of neighborhood, state, nation, continent, island, peninsula, etc.;
to demonstrate knowledge of other peoples' history, culture and traditions and aspirations;
to understand the meaning of health and how people stay healthy;
to further understand life cycles of animals, birds, insects, plants, and humans;
to begin learning how to use a dictionary and encyclopaedia; to prepare and maintain a personal learning log or journal;
to inform classmates about things they have observed, thought or read at home, at the movies, or on visits to the zoo;
to understand the basic social, political and economic systems of Ohio and the United States in general, Africa, Native America, Latin America, China, etc.; and
to show an increased knowledge of an African language.


*The learning outcomes proposed for the third grade were excised on 11-20-98 from the Preliminary Application submitted to ODE (December 9, 1998). These learning outcomes will be added to the curriculum for the year 2000.

The performance indicators enumerated above show that the focus of IBWCA's curriculum follows the basics of standard public school curricula with this noteworthy exception. The Academy is intent on infusing into its curriculum a diversity element, with the emphasis on Africa America. This element is not standard in public school education but is vital from our perspective given our student population, not because they will be black but rather because most children (and most educated Americans regardless of race) have not been exposed to the history, culture and aspirations of the African in America (see IBWCA's "Instructional Design Philosophy" below). Furthermore, IBWCA will provide its enrollees at all levels a well thought out physical education program designed around various physical activities — manipulative, locomotor and non-locomotor — such as modern and African dance, running, jumping and landing, sprinting, acrobatics (tumbling, headstands, throwing, catching, somersaults, leapfrogging, etc.), martial arts, e.g., karate and capoeira (traditional African martial arts), volley ball, baseball and basketball.

As the Ida B. Wells Community Academy adds additional grade levels, obviously we will offer a commensurate listing of performance standards indicating the expected end competency results as demonstrated on state-required proficiency tests and other psychometric instruments, e.g., the California Achievement Test, etc. IBWCA will also measure scientifically the degree to which its students exhibit the ethnic, racial and national knowledges and sensitivities (sensibilities) the curriculum fosters. The inference here is that IBWCA will establish frequent opportunities for staff to conduct structured assessments of . . .

1. how well students (and parents) are apprehending IBWCA's curricular structure, teaching style and methodology and IBWCA's student-community-parent relationship;

2. how well students are comprehending the lessons, learning materials and related class materials and activities; and

3. how IBWCA is making progress in its overall development as a creative and responsive learning process; and

4. how well IBWCA has met its planned and comprehensive continuum of direct and indirect educational services for all students and particularly for special population students as required by rule 3301-51-04 and in accordance with the procedural safeguards outlined in the Individuals with Disabilities Education Act (IDEA), Part B. Under this item is also included the assessment of IBWCA's ability to meet the needs of its exceptional students (see "Glossary of Special Education Terms," Appendix II).

Assessment Assumptions

IBWCA's choice of methods to assess pupil progress is based on the following four beliefs about assessment:

1. In order to have a complete picture of a student's growth, different types of assessments must be used. Assessments should focus on an individual student's growth towards a proficiency standard rather than comparing a student's performance against other students;

2. There should be a close relationship between a desired student outcome and the means used to assess it;

3. Assessing what students do with knowledge is as important as assessing what knowledge they have; and

4. Assessment should promote and support reflection and self-evaluation on the part of students, staff, IBWCA and parents.

Based on these assumptions, IBWCA will use a variety of performance-based assessments such as portfolios, demonstrations, and integrated performance tasks. IBWCA will also use the other standardized tests that compare individual student progress to state standards. These standardized proficiency tests are also intended to report the proportion of students at the Ida B. Wells Community Academy who have reached (or exceeded) the state proficiency standards in math, reading, writing, science, and social studies.

Tools for Assessment
Portfolios will provide one perspective for assessing student growth. A portfolio is a daily or weekly collection of representative work. Reading, writing, speaking portfolios, for example, will contain results of student performance on a variety of assessments in writing, reading, and speaking. Scoring ranges will be developed and staff will receive training on using these agreed upon scoring ranges. Student reflection will be an integral part of the portfolio. In addition, the portfolios will serve as one tool that lets teachers determine how well they meet IBWCA-adopted proficiency targets, say, in one language — English — and becoming semi-fluent in a second — Kiswahili.

Demonstrations provide another means for assessing student growth. Demonstrations will, for example, be a part of a Reading/Writing/Speaking Portfolio or a mathematics assessment. The key element will be students demonstrating their attainment of specified standards to a panel of IBWCA staff, parents et al. These standards or desired outcomes will be established based on the Ohio state-mandated curricular proficiency standards.

Performance represents another set of goals are assigned as a means of assessing students growth. These goals will be based in combined curricular areas of language arts and social sciences but not exclusively so. Teachers will identify a number of performance goals that reflect content covered during the six-week grading period, semester or year. Once identified, these goals will be defined and scoring methodologies devised so that the mastery of learning outcomes can be specifically determined. These goals will also be designed to measure what students know and how well they apply what they know.
IBWCA's faculty as a group or individually will assess how well students can put into action what they have learned and experienced to construct, perform and carry out a meaningful service project designed to meet a community need within or without IBWCA. The task will demonstrate the student(s) ability to integrate several expected and desired social, educational or historical-cultural outcomes for students. A possible task could be stated as follows:
"Identify a service opportunity to serve the community. As you prepare yourself to perform the service, research, read and comprehend what others have done under similar circumstances that is related to the service you have chosen. Develop a written proposal that describes the service and that persuades others that what you intend to do is worthwhile. Provide the service. Finally, describe the process in writing as well as through another medium that can be video, music, speech, a song, art, poetry, or dance. You decide which medium (media) you want to use."

Standardized Assessment Tests that compare student progress to a proficiency standard will be used. These tests include the Ohio Board of Education proficiency Test to measure reading, writing, and math, social studies and science proficiency in the 4th grade; the Language Assessment Scale for measuring gains in English proficiency; and the California Aptitude Test (CAT), the Student Attitude Measure (SAM) to measure student motivation, student academic self-confidence, student sense of control over performance, and students sense of instructional mastery. IBWCA will use a battery of assesment tests normed on inner-city and disadvantaged youth (see Handbook of Tests and Measurements for Black Populations. Reginald Jones, Ed. 2 Volumes. Cobb & Henry Publishers, Hampton, VA, 1996). IBWCA will also use the Wechsler Individual Achievement Test (WIAT) and the Iowa Test of Basic Skills (ITBS). Other achievement test options for groups will be used: the CTBS, the MEA, the Metropolitan Achievement Tests, the Stanford Achievement Test, and for individual achievement: the Woodcock-Johnson, the Peabody Individual Achievement Test (PIAT), the Wide Range Achievement Test (WRAT), the Key Math, the Woodcock Reading, the Kaufman Assessment Battery for Children, and the Diagnostic Achievement Test for Adolescents.
Describe the instructional design philosophy (i.e., how students will be taught: basic skills program, interdisciplinary, learning, math/science focus, etc.)
The Ida B. Wells Community Academy is committed to engendering in its students intellectual curiosity and providing high academic standards and rigorous performance expectations. To accomplish this aim the Academy has an educational philosophy that emphasizes in its program structure and instructional design the following essential curricular and procedural ingredients:
1. Small classes that are interdisciplinary (holistic) and culturally integrative, and designed to enhance at all levels the students' proficiency in the basic skills and mastery of standards adopted by teachers, parents, and students;
2. Team-teaching emphasis stressed where appropriate (on occasion students may be
assigned to a team of teachers); using parents, community residents and retired professionals
as part-time teachers or teaching assistants;
3. Small student to teacher ratio (15:1) to facilitate individualized instruction based on
interests and needs; instituting a learning through doing (active vs. passive) instructional
design;
4. Meeting students where they are socially, culturally and academically and then moving them to higher and different academic levels supported by incorporating instructional themes such as the avoidance of threat, meaningful and relevant content, learning style choices, sufficient time to assimilate content, enriched learning environment, student-to-student collaboration, and immediate feedback; Of especial importance in this context is the programmatic notion that all children can learn. It is incumbent on educators to devise means to design methodologies to "lead that learning out," i.e., make it happen;
5. Self-learning projects that are student or teacher initiated, conducted first in-school and later, based on student maturity, conducted out-of-school;
6. The interdisciplinary (holistic) model that allows students to experience how one set of basic skills directly relates to other basic skills, i.e., reading to mathematics, geography to social sciences, mathematics to science, culture to history; and how all these relate to being educated in general; and
7. An extended year-round calendar of up to 210 days (with 180 regular days and 30
summer school days).
IBWCA's instructional philosophy and program structure is open-ended so that it can maintain curricular and operational flexibility, recognizing that over time it may have to incorporate revised or different learning and operational strategies. IBWCA's curricular focus follows the standard public school curriculum with one noteworthy exception: IBWCA is intent on infusing into its curriculum an emphasis on Africa, African America and the world. This element is vital to the correct education of all its enrollees white or black. Most children (and most educated Americans regardless of race) have not been properly exposed to the history, culture and aspirations of the African in America, the largest non-white racial group in the U.S. Unfortunately, this group's history, culture, languages, traditions and contributions to the American civilization are neglected in school curricula from kindergarten to the Ph.D. IBWCA will, therefore, correct this oversight but not by excluding instruction relevant to other ethnic and racial groups, most particularly Native Americans, Latinos and Asians. However, we will not resort to the exclusion of instruction on other ethnic and racial groups. America is a society that needs to take advantage of the history and culture and full participation of all its citizens; the proper education of its youth must also reflect this need and afford its youth an educational experience that recognizes that it takes all of us to perfect the nation. IBWCA will, therefore, offer public school children in the city of Akron a well-balanced education where academic skills are taught in combination with mutual respect, cooperation, and particpation among diverse young Americans who are destined to maintain the American experiment.
IBWCA DEVELOPERS' CAPACITY
MRS. EMMA JEAN CALHOUN: Narrative of an Active Life
Address: 622 McKinley Avenue
Akron, Ohio 44311
Phone: 330.724.6035
Mrs. Calhoun is the inspirational leader of the Ida B. Wells Community Academy and serves in conjunction with Dr. Edward W. Crosby as a co-principal developer/ administrator. She is a native of Sylacauga, Alabama and is married to Ira "Joey" Calhoun, Jr. They have resided in Akron for most of their lives and have two daughters and four grandsons. For 28 years, Mrs. Calhoun worked at Akron City Hospital as a Licensed Practical Nurse, during which time she developed her lifelong ambition to serve her people and humanity in general. She received "The Beautification Award" from Keep Akron Beautiful in 1995, The Catholic Commission's "Certificate of Recognition for Exceptional Work for Peace and Social Justice," November 23, 1993; "Award to an Outstanding Community Activist" presented by the African American Cultural Festival and Parade Committee, July 10, 1993; and "The Martin Luther King. Jr., FESTAC Institute Certificate of Appreciation," November 30, 1987.
As a life member of the NAACP, she has been working diligently over a period of years to increase the membership rolls of this very important community organization. She has served as a Girl Scout Leader at Trinity Lutheran Church. Her hobbies include reading and traveling. She has traveled to Egypt, Israel, Greece, Liberia, Senegal, the Ivory Coast in West Africa, Mexico, and various parts of the United States. Never one to forego learning opportunities Mrs. Calhoun attends the University of Akron studying among other things courses in the African American history and culture under the tutorship of Professor Neal Holmes. She along with Professor Holmes and a committee worked concertedly and with success to have an African American history course taught in theAkron Public Schools. This course is currently taught at Buchtel, North, East, Ellet, and Firestone High Schools. She is presently working with a Akron Public Schools multi-cultural education committee to infuse African American history content into all grade levels — K through 12 — in the Akron Public Schools. In 1989 the parents of school-aged students informed Mrs. Calhoun about the high rate of expulsions and suspensions in the Akron Public Schools. As a result, she requested and received data from the Board of Education which demonstrated the accuracy of this assertion.
As a consequence of this involvement, Mrs. Calhoun organized the Task Force for Quality Education was formed with Ms. Debra Calhoun, program coordinator, the American Friends Service Committee, Dr. Neal Holmes of the University of Akron, Mr. Ken McClenic, director, West Akron Neighborhood Development Corporation, and Mr. Cazzell Smith, director, East Akron Community House. The Task Force for Quality Education has conducted a series of Community Education Forums at the East Akron Community House, on a wide range of topics some of which are indicated below:
Symposium: Suspensions and Expulsions of African American Children September 26, 1992;
Parents Open Mouth Forum on Expulsions and Suspensions, November 19, l992;
Open Discussion Regarding Suspended and Expelled Students, January 14, 1992;
School Board Meeting, Task Force Members Present, Rankin Elementary School March on the Board of Education, "Save Our Children," September 13, 1993;
Planning for Careers and College Workshops in collaboration with the University of Akron Educational Talent Search, Saturday, January 22, 1994;
"Knowledge is Power," Guest Speakers Dr. Edward W. Crosby and Dr. David Whitaker, Esq., Saturday, February 18, 1995;
Town Meeting One, A Public Discussion on the Humanities, Public Schools, and Community Based Academic Programming. Guest Speaker Dr. Mwalimu Shujaa, SUNY at Buffalo, Saturday, December 2, 1995, Black Cultural Center, the University of Akron;
"The Basis for an African Centered Education," Guest Speaker Dr. Charles S. Finch III, MD, Morehouse University Medical School, Saturday, February 22, 1997, Black Cultural Center, the University of Akron;
"What to Your Child Should Know by the Third Grade," Parent and Student Preparedness, Saturday, April 25, 1998, Guest Speaker Mrs. Myra Lewis Bolar, the University of Akron Educational Talent Search; and
"What to Look for in a Good Teacher," Guest Speakers Mrs. Denise Brown and Dr. Ronald McClendon, Lawton Street Community Center.
For the past ten years, then, Mrs. Jean Calhoun has devoted a considerable portion of her time and talents to advocating the provision of quality education to Akron's youth, particularly African American youth as well as all those depending on public education from K through 12. Education in her frame of reference is one that does not foster the standard biases of race, gender, class or color. As the co-developer/administrator of the Ida B. Wells Community Academy, Mrs. Calhoun will be responsible for the planning and coordination of:
Health and Safety,
Teacher Recruitment and Training,
Volunteers, Student Interns, Staffing Street Crossing Guards, and
School Lunch Program.
DR. EDWARD W. CROSBY, PhD: Narrative of a Curricular Life
Address: 437 Silver Meadows Blvd
Kent, Ohio 44240-1913
Phone: 330.673.9271
e-Mail: hierogfx@hierographicsonline.org
Dr. Crosby was born in Cleveland, Ohio and was the founder and first chair of the Department of Pan-African Studiesat Kent State University from 1969 to January 1, 1994 when he retired and became emeritus chair and professor, the Department of Pan-African Studies and professor emeritus, Department of Modern and Classical Language Studies (German). He currently serves in conjunction with Mrs. E. Jean Calhoun as a co-principal developer/administrator and director of education for the Ida B. Wells Community Academy.
Dr. Crosby received his BA and MA from Kent State in 1957 and 1959 in German and Spanish and earned his Ph.D at the University of Kansas in 1965 in German, Medieval German Literature and Medieval History. In 1957 he began teaching at Kent State and later, in 1958, at Hiram College also in Ohio. In 1962, while on a leave of absence, he taught at Tuskegee Institute (now University) in Tuskegee Institute, Alabama.
He returned to Hiram College a year later. In 1965 Dr. Crosby resigned from Hiram College, changed his career from teaching German and Spanish to serving the social and educational needs of Africans in America, and worked first as a volunteer and later became an associate director of Akron's recently organized Summit County-Greater Akron Community Action Council. During this period, he spearheaded among other cummunity projects the establishment of an Upward Bound Program on the Hiram Campus. This program was subsequently transferred to Walsh College and later in 1971 to Kent State University.
In 1966, after working in Akron for six months, he joined Southern Illinois University's Experiment in Higher Education (EHE) based in East St. Louis. As the director of education of EHE, he restructured the learning process and the curriculum of the last two years of high school and first two years of undergraduate education for 200 African American (90%) and white students (10%) who were assured scholarships to continue their college careers at SIU or any other college or university in Illinois or the United States in general. Two students studied in Africa.
While in East St. Louis, Dr. Crosby was instrumental in the establishment of the Danforth Foundation's Metropolitan Scholars Program and assisted in the national evaluation of UPWARD BOUND for urban youth and compensatory education programs for migrant and other agricultural workers through the South West Alabama Farmers Cooperative (SWAFCO) and worked with university faculty, administrators, and students to speed the establishment of African or Black Studies programs in California, Oregon, Missouri, Ohio, Texas and New York.
He returned to Kent in 1969 to found the Institute for African American Affairs and, in 1976, the Department of Pan-African Studies. From 1976-1978, while on administrative leave of absence, Dr. Crosby directed the Afro-American Studies Program at the University of Washington in Seattle. For twenty-five years, as aforementioned, Dr. Crosby was the chairperson of the Department at Kent State where he promoted African-centered education, and won the respect of students and faculty at Kent, across the state of Ohio, and around the nation. He believes academic, cultural, and socio-emotional holism helps place African American college and public school students at the center of the learning process and allows them to "retire upon themselves."
See Appendix I for the resumes and curriculum vitae of other members of IBWCA development team.
The Ida B. Wells Community Academy Professional Services Network
IBWCA has developed a comprehensive network of professional resource persons who have been and will consult with faculty and staff. They are essential to IBWCA's conduct and administration and are therefore instrumental to its planning and implementation. As planning proceeds these resource persons will expand. Presently, the following individuals have agreed to offer their professional services in the following areas:
Psychological Testing, Counseling Services, and Assessment and Accountability


Dr. Angela M. Neal-Barnett, Associate Professor of Psychology, Kent State University
Dr. Juanita K. Martin, Associate Director and Psychologist, Counseling, Testing and Career Center, The University of Akron



Curriculum Design, Planning and Institutional Development

Includes curriculum design, recruitment and promotion, special education plan, budget and financial affairs, governance, incorporation, by laws and other legal affairs, acquisition facility, textbook selection, equipment, student and parents rights and responsibilities, health and safety, etc.

Mrs. Emma Jean Calhoun, Co-Administrator and Chairperson, The Task Forcefor Quality Education, Akron, Ohio
Dr. Edward W. Crosby, PhD, Professor and Chair Emeritus, Department of Pan-African Studies, Kent State University*
Ms. Raita Bilal, Certified Teacher, Elementary Grades, Akron Public Schools*
Mrs. Beverly Parker, Certified Teacher, Speech Pathologist, Akron Public Schools*
Mr. Perkins Pringle, Certified Teacher, Elementary Grades, Kent State University*
Mr. Elbert R.B. Pringle, JD, Legal Affairs Advisor, East Cleveland, Ohio*
Dr. Marlene R. Dorsey, PhD, Dean, College of Continuing Studies, Kent State University
Mr. Dean Seavers, Marketing and Sales Executive, Allied Domecq Retailing – USA, Chicago, Illinois*
Dr. Robert Deitchman, PhD, Professor Emeritus, School of Social Work, The University of Akron*
Mr. Gregory M. Dortch, Auditor, State of Ohio Auditor's Office, Akron, Ohio*
Ms. Jacqueline Jackson, The University of Akron*
Ms. Debra Calhoun, Organizer, American Friends Service Committee, Akron, Ohio*
Dr. Kenneth Cushner, PhD, Professor, Middle Childhood Education, Teaching, Leadership and Curriculum Studies, and Assistant Dean for Student Life and Intercultural Affairs, College of Education, Kent State University
Dr. Deidre L. Badejo, Professor and Interim Chairperson, Department of Pan-African Studies, Kent State University
Ms. Tracy Thornton, Certified Teacher, Secondary Education – Social Studies (Graduates in May 1999), Kent State University*
Mr. William E. Calhoun, Businessman, Stewart and Calhoun, Funeral Home, Akron, Ohio
Mr. Sherman Roberts, Retired Licensed Practical Nurse, City Hospital, Akron, Ohio*
Ms. Jacqueline Garrett, Recqor Coordination, Cuyahoga Falls General Hospital, Cuyahoga Falls, Ohio*
Dr. Ronald R. McClendon, Assistant Professor of Education, The University of Akron*
Mr. Herman Oden, Retired, Goodyear Aerospace, Akron, Ohio*
Mr. John Fuller, Planner, Department of Planning and Community Development, City of Akron*
Professional Development and Training
Ms. Gloria McCullough, Assistant Dean, College of Continuing Studies, Kent State University



School Organization and Management


Dr. Deborah Wilcox, CEO, Organizational Development and Management, Confluency, Kettering, Ohio
Dr. Ramona Brockett, JD, PhD, Assistant Professor, Department of Criminal Justice Studies, Kent State University
Electronic Media Technologies
Ms. Gladys Smiley Bell, Associate Professor, Library and Media Services, Kent State University


*Indicates those who have worked from the outset as members of the IBWCA Development team.

---
Development Timelines
The IBWCA development timelines below cite major milestones and their anticipated start and completion months. IBWCA anticipates many of the indicated timelines will start and complete before the stipulated month(s).