Volume XII Number 2 April, 1998

The Wisdom Of The Ages

Bes, the Egyptian God of Mirth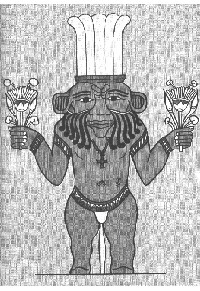 Among the foreign gods known to the Egyp- tians is . . . Bes, who according to some is . . . of African origin; we may note, however, that the name of the god appears to be Egyptian, and it seems to have been bestowed upon him in very early times because of the animal, cal- led "Besa," whose skin he wore. He is usually depicted in the form of a dwarf with a huge bearded head, protruding tongue, flat nose, shaggy eyebrows, and hair, large projecting ears, long but thick arms, and bowed legs; round his body he wears the skin of an animal of the panther tribe, and its tail hangs down and usually touches the ground behind him; on lhis head he wears a tiara of feathers, which sug- gests a savage or semi-savage origin. He is sometimes drawn in profile, like the other Egyptian gods, but usually he appears full face, like the goddess Qetesh. As a god of music and the dance he is sometimes represented playing upon a harp; as a god of war and slaughter, and as a destroying force of nature he carries two knives in his hands; as a warrior he appears in a short military tunic, which is fastened round his body by a belt . . . Figures of Bes are found carved upon the handles of mirrors, on kohl vessels, and on pillows, all of which indicate that in one aspect at least he was associated with rest, and joy, and plea- sure. From a number of scenes on the walls of the temples and from bas-reliefs we see that Bes was supposed to be present in the cham- bers and places wherein children were born, and he seems to have been regarded as a protector of children and youths, and a god who studied to find them pleasure and amusement.

From: E. Wallis Budge. The Gods of the Egyptians, Studies in Egyptian Mythology (New York: Dover Publications, 1969), pp. 285-285. See Your History on the next page.




---
A Perfect Cybernetic Idea

Just recently in a letter to the Editor, Cousin Tony Harrison suggested that the publisher of the News Quarterly and the Editorial Board look into establishing a Robinson-Naylor-Harris Website for the purpose of accomplishing either of two primary things – One sending the News Quarterly to our subscribers via the Wide World Web or Two sending the News Quarterly out via e-Mail or using both methods, e-Mail and the Web. We want to thank Tony for his perfect idea. For it is the best idea we have received in the ten (10) years the News Quarterly has been published. I, like Tony, am certain that this will reduce the costs of publication tremendously; it would also get information out to a wider public than just family members. The Robinson-Naylor-Harris family is a historical Virginia family that reaches back to 1790 at least. Moreover, the fact of our patriarch's homestead being on the Civil War Battlefied in Manassas (Bull Run) Fairfax County, Virginia needs to be known by the world at large.
Incidentally, Cousin Edward Crosby posted his personal Website just the other day. It is at this time registered at two internet service providers (ISPs). Should you want to visit his Website you can using the following URL:


http://hierographicsonline.org

His e-Mail address is:

hierogfx@hierographicsonline.org

The other Website at concentric.net could temporarily serve as the Website for the Robinson-Naylor-Harris Website until we can get our own domain and domain name. A domain will allow the Website to be similar to AOL or Compuserve or ATT or Microsoft Exchange. The costs as I see it now will be only $20.00 per month to an ISP plus the $25.00 setup cost. Usually, it takes only moment for this to be accomplished. It should not take too much longer to design the News Quarterly's Website.
If the figures I gave above hold, and I don't know why they won't, the total costs should be no more than $240.00 per year approximately not including incidental costs. These incidental costs will not increase the total annual costs overly much, particularly since the News Quarterly currently costs much more than $240.00 when you take into account 1st class postage, printing and other production costs four times a year, etc.
If we follow this suggestion, we will enter the 21st century connected to the world's informa- tion superhighway. For this brilliant idea to work, however, family members must be connected to the Internet and to the World Wide Web. There is, however, a possibly major problem in all this. For it to work, many of our suscribers to you don't will have to own a personal computer. Those who don't will, of course, continue to receive copies through the US Postal Service.
---
Subscription Renewals have been Sparse
Since we sent out notices for you to renew your subscription to the News Quarterly. Some of you responded quickly and some others sent in contributions as well. Nonetheless, we have received very few renewals from the majority. We hope we won't have a situation like we had before trying to eke a paltry $5.00 out of those who we know have the resources. Please, send in you renewal application as soon as possible.
We mentioned last year that before we requested subscriptions, we mailed more than 400 free copies. We now mail out approximately 180. That's okay, but don't expect to receive another copy, if you have not sent in your renewal application. Sorry about that, but business is business.
---
YOUR HISTORY
by
J.A. Rogers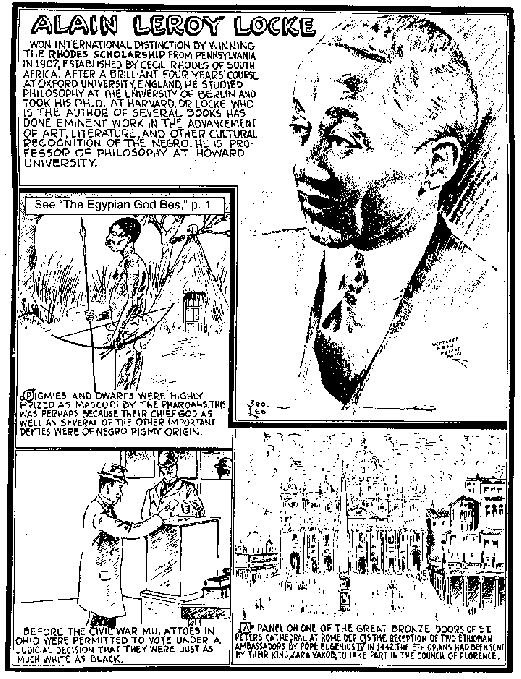 From J.A. Rogers. Your History from the Beginning to the Present (The Pittsburgh Courier Publishing Co., 1940). Reprinted from the original collection of Heru-Ka Anu, 1983.

---
Black History On Display
This is the time of year that outstanding events in Black History and outstanding black people are recognized for their achievements and their contributions to America's history. On Sunday, February 8, 1998, Littles Memorial Temple United Holiness Church of America is the place to be.
The festivities associated with the celebration of Black History at Littles Memorial Temple began with an abundance of excellently prepared African American "soul food" dishes, which were sampled and enjoyed by everyone in attendance.
The founder and sponsor of the award service is Rev. Betty Carolyn Bond. She is the wife of William Bond, the mother of three children, Delis, Terisha and Seanise, the grandmother to six, and a cousin on the Naylor side. Rev. Bond is a firm believer in education. She returned to school as an adult and received her G.E.D. Afterward, she attended Community College of Philadelphia where she took General Studies and Office Science. She then attended the Thomas Jefferson Long Term Care Institute, Jefferson Medical College, for the Obra Training program. She is a state certified registered C.N.A. Rev. Bond is a member of the Clergy. She has pastored her own church, The Holy Rock Deliverance Mission Church of God, Inc., founded in 1974 and set up as a Non-profit organization in 1979. She is now a member of Littles Memorial Temple U.H.C.A. Her son, Delis, is a graduate of Community College of Philadelphia and Temple University with degrees in Criminal Justice, General Studies, Real Estate and Management. He has also earned several certificates.
About six years ago, Rev. Bond formed the Sunshine, Love, Joy and Peace Ministry of Littles Memorial Temple, U.H.C.A. From this ministry came the establishment of a Black History Library in the church. The Library project became a reality in 1997, and was, in part, responsible for spearheading the Black History Awards Service. Fifty books were placed in the Library in 1997 with an additional twenty-seven in 1998, bringing the total to seventy-seven books. Our complete goal for the year 1998 is one hundred books.
The service is also a vehicle to raise funds to support our endeavors and to provide scholarships to students attending college. This year, four scholarships were distributed to deserving students. There were certificates given to fifty people, fifteen of which honored the recipients for their commitment to Family Values. Four people were honored with Citations from the Philadelphia City Council for their work in the community, workplace and church. The recipients received their citations from the office of the President of City Council, John Street . Those receiving the citations included District Elder J. P. Colter, Elder Newton Pullian, Elder Harold Hayes, and Sr. Marline McCarthy.
Without a doubt, one of the highlights of the day was the personal appearance of the Mayor of Philadelphia, the Honorable Edward Rendell. Mayor Rendell then addressed the congregation eloquently with encouraging words that reflected the importance of Black History and the celebration of it. After his remarks, Mayor Rendell presented citations from the City of Philadelphia, bearing the Mayor's seal to Ernest and Anna Turner, married 59 years, Stanley and Henrietta Glenn, married 56 years, and Mother Elizabeth Lee, who is 96 years old and the oldest member of the Littles Memorial Temple U.H.C.A. congregation, and District Elder Alfred Baker, Pastor of Littles Memorial Temple U.H.C.A. and the President of the Clergies for the 22nd Police District. The Mayor was most impressed with recipient Janice Jones, a wife and mother of three who is blind. Mrs. Jones resides in North Philadelphia and is the facilitator of a Day Care Home which services 6 infants, toddlers and preschool age children. The Mayor spoke to Rev. Bond and expressed a desire to offer Mrs. Jones a seat on the Mayor's Commission for the Handicap- ped and Disabled.
Black History was on display as young people filed across the front of the church and gave speeches, book reports, and poems. Musical performances were offered by both individuals and choirs, and a poem entitled "Our People Made It" was written by the sponsor, Rev. Betty C. Bond and read by Cousin Ayesha Dixon. There was also a memorial service in honor of deceased loved ones. The families of Cousins Una Smith-Edwards and Sandra Brooks were presented with Black Heritage Bibles and the family of Evangelist Adeline Nelums was presented with a plaque.
There was an impromptu Black History trivia contest, and those who answered correctly received a prize. There was a multitude of gifts distributed which included boxes of chocolates, bouquets of roses and carnations, perfume, baseballs. puzzles, books, Bibles, ornaments, and snack bags for the young people to carry home.
The prayer of dedication and commitment was said by District Elder Alfred Baker. The Word of God was then brought forth by Rev. Jean D. Sanders , a member of Mt. Moriah F.B. H. Church of God and Supervisor of the Pennsyl- vania District Young People's Institute. Her topic, "Living Large," was most appropriate to the occasion.
The church was filled from the front to the back with happy people and we all had a beautiful, blessed day celebrating our heritage under the anointing of God Almighty.
Thanks to everyone from the President of the Sunshine, Love, Joy and Peace Ministry, the sponsor of the Black History Awards Service, and the sponsor and librarian of the Black History Library of Littles Memorial Temple U.H.C.A.
This project is a year round goal and needs support. Any help would be greatly appreciated. Donations can be sent to Littles Memorial Temple U.H.C.A., 2000 North VanPelt Street, Philadelphia, PA 19121, in care of Rev. Betty C. Bond — Sponsor, The Black History Awards Service.
---
Two Good Family Members Gone
Denise Elizabeth Robinson Thomas
On Sunday afternoon, August 17, 1997 one who we love stepped across the threshold that we call eternal peace. It was a step over into our Father's house. The merciful hand of God claimed our beloved mother, grandmother, sister, aunt and friend.
Denise was born on July 31, 1953 in Fairfax County, Virginia. She graduated from Herndon High School in Herndon, Virginia. Denise worked with her friends at Navy Federal Credit Union for 15 years. She enjoyed baking cakes for many special occasions at work. It brought her so much joy to make others happy. Denise had a likeable personality that brought her an enormous amount of friends. She did not say a bad word about anyone. Her family was one of her main concerns. She gave loving guidance to relatives and friends.
Denise was an adored member of Mount Olive Baptist Church. She was baptized on June 24, 1964 by Reverend Roger V. Bush. She immediately began to work in the Woman's Auxiliary. She donated much of her time creating carnations for Reverend Eugene Johnson's inauguration. A graduate from the School of Ushering, she earned a perfect score on her final exam. She enjoyed writing for the Northern Virginia Voice News Paper where she helped coordinate the first African American Festival in Dale City, Virginia.
On March 31,1984 Denise was united in matrimony to David Lee Thomas (Skeetz) who proceeded her in death. Their union was blessed with two daughters, Esther and Ruscel.
Denise leaves to mourn her loss, her loving daughters and a loving grand daughter, Davonna Robinson; four brothers Enos, Russell, Garfield and Eric Robinson; two sisters Rosa Sye and Barbara Johnson; a mother-in-law Rosa Thomas; and three sisters-in-law Valerie, Joan, and Barbara Ann Robinson. Her memory will live on in a host of aunts, uncles, nieces, nephews, cousins, other relatives and very special friends.
Our mother is now an angel with no more pain and no more suffering. She is at peace. She knew she was loved before she left us to go to Heaven. Everyone's support gave her so much delight and comfort; it made her smile even through her pain. A special thanks to Aunt Rosa and family for all their hugs. Also Uncle Garfield and our other cherished uncles for being right by her side. Everyone had their own loving role. Mom is gone to glory with an abundance of love in her heart and in her soul. Thank you all from the bottom of our hearts.
---
Garfield A.D. Robinson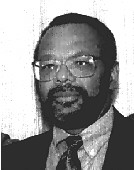 On February 8, 1998 Garfield A.D. Robinson was called to his eternal resting place at 10:41 a.m. at Trinity West Medical Center, Rock Island, Ill.
Garfield Robinson suffered a heart attack while jogging. Friends and family fondly called him "Gar." He was the son of the late Russell Robinson and Esther E. Naylor Robinson.
Born July 16, 1943, "Gar" faithfully attend Sunday School at Mount Olive Baptist Church, Centreville, Virginia. He attended Fairfax County Public Schools through graduation from Luther Jackson High School in Merrifield, Virginia, where he graduated with honors. Furthering his education, he graduated with honors from Northern Virginia Community College with an associate degree in mathematics. He subsequently enrolled at George Mason University where he consistently remained on the deans list.
Garfield truly believed education was the key to opening doors, and was constantly striving to further his education, and encouraging others to do the same. Garfield served in the United States Army as specialist ES from 1961 to 1964. He spent the majority of his time in Frankfurt, Germany. Upon receiving a honorable discharge from the Armed Forces, Garfield began his Civil Service career in earnest. His distinctive career includes accounting at Fort Myer, Control Oppose Officer at NASA, Wash, D.C, and various other positions within the department of Army until returning to Germany with his wife for an eleven year tour. Upon his return to the states he settled in Coal Valley, Ill. Until his retirement in 1996, he worked for H.Q. Industrial Operations Command at Rock Island Arsenal. After retirement, Garfield become founder and CEO of the Information Systems Depot in Coal Valley, IL Garfield Robinson was joine in holy matrimony March 6, 1971 to the former Joan Regina Fields. Garfield was blessed with two special nieces, Esther and Ruscel Robinson, and one God Son, Eddie Woods.
Computers were his biggest passion as well as his work. Garfield had spent many hours at his father's knee learning the art of working with wood and had become a "master" craftsman. While Garfield enjoyed many types of sports, he became an avid jogger. He would partake when possible in any type of jogging/marathon events which were within his purview whether local, national, or abroad.
He was preceded in death by two sisters Sylvia Roberts and Denise E. Thomas.
He leaves to cherish his memory his devoted wife Joan. His siblings Enos Robinson, Rosa Sye, Russell Robinson, Barbara Johnson, and Eric Robinson. Two sisters-in-law Valerie and Barbara Robinson. And mother-in-law Julia Fields. Many nieces, nephews, cousins and a host of friends, who are deeply saddened by his passing.
---
Letters From Family
You all are doing just a wonderful Job with the News Quarterly. I honestly don't how you are able to put out such a quality publication on the limited budget you have.
Just a thought. With more and more people purchasing computers, accessing the Internet and using e-Mail, have you considered putting up a Family News Quarterly Webpage and/or "mailing" out the News Quarterly electronically, via e-Mail? This might be a way of reducing costs, such as printing, paper, postage, etc.
Take care, we really appreciate the fine job that you do.
Tony Harrison
NB: Tony, we thank you for your insight. Send more good ideas!
---
Sorry this has taken me so long to get in the mail. Please don't drop me from the mailing list (smile). I hope all is well with you and your family.
I've enclosed a check for $50.00. I hope that covers the subscription. I didn't get a form or lost it. I don't remember one. If it covers it and any left over please keep it for a donation to help the mailings or whatever it can help with.
I would appreciate any information you could help me obtain regarding my family lineage. My mother's maiden name was Virginia Naylor. Her parents were Jared and Lucy Naylor. My father's name was William Moses Davis, his father was Samuel Davis. His mother was Nannie Harris, his father was Samuel Davis. Nannie's mother was Alice Harris. God Bless you and keep up the good work. I'm so happy to have received this News Quarterly. I'll send some family information next time.
Love, Cousin Amina
---
I'm sorry this renewal is late. I don't know if you knew Shelby was hospitalized in April, 1997. He had a triple by-pass and valve replacement and never recovered fully. He is in a nursing home here in Clinton, Md. Keep us in your prayers and love to the rest of the family.
Lenora.

---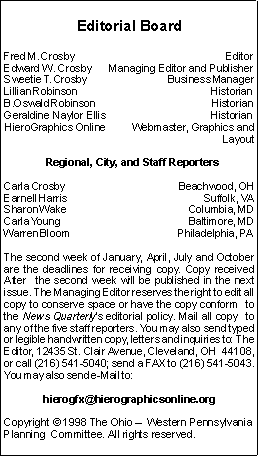 Go to Your History Online