Volume XII Number 4 July, 1998 The Wisdom Of The Ages
Educator and Race Leader
The life of John Hope, [the first black president of Morehouse College and Atlanta University] can add much to our knowledge and under- standing of the world of African Americans at the beginning of the twentieth century. Although Hope's problems were rooted in systemic discrimination, they also reflected issues, desires, and expectations that emanated from the African American community itself. Instead of an external view of segregated black life, this work looks at that community from the inside out. . . . I look at the peculiar nuances that went into
the making of a black leader who was also a black college president. However, in contrast to what Harlan has argued regarding Washington, I believe it was not power that motivated Hope (though he clearly was not without power) but of obligation and commitment to perform two difficult tasks equally well: developing black higher education and resolving other "race problems" as he interpreted them.
This biography of John Hope also contributes to our understanding of color, class, and caste within the African American community, especially the group Willard Gatewood identified as "aristocrats of color." Born of a bi-racial union in Augusta, Georgia, shortly after the Civil War, Hope belonged to a small black upper-class elite whose history predated the coming of freedom. Though technically a mulatto, John Hope looked like a white man with no visible traces of African blood.
Considering the perilous status of African Americans during his lifetime, why, given the opportunity, did Hope not pass for white? That question was raised by some whites while Hope still lived, especially while he was in prep school and college. It continued to be raised after his
death, and is even raised in some circles today. The question itself is a sign of unfamiliarity with black experience. It both devalues African American community and ignores the trauma associated with severing relationships with family, friends, and institutions. Perhaps the question
should be just the opposite, even for those Americans with complexions as fair as John Hope's: Why would African Americans born and socialized in the African American community, in spite of the social milieu, give up their racial identities?
W. E. B. Du Bois, whom Hope counted as one of his best friends, agreed about the importance of a distinct African American identity even while acknowledging that some African Americans chose to cross the "color line." About John Hope, Du Bois wrote that "he was at once white and glad to be black. . . . There was nothing extraordinary in Hope's being a Negro. He did not consciously choose to be a Negro. He was a Negro."
From: Leroy Davis, A Clashing of the Soul: John Hope and the Dilem- ma of African American Leadership and Black Higher Education (1998)

What's Inside
John Hope, Educator & Race Leader

Clifton Primitive Baptist Church

YOUR HISTORY
Family Enterprises on the Move:

Blue Nile

Call & Post Deal Falls Through

Afrikan Love, Inc.

Sing Praise Songs for Our Elders

Family Reunion '99

Letters From Family

---
Clifton Primitive Baptist Church

A Historic Phenomenon

The following information and photos were pro- vided by Cousin Virginia Harris Thornton, the granddaughter of Isabelle Harris. Virginia lives in Vienna, Virginia.

Clifton Primitive Baptist Church is considered the Oldest African American primitive baptist church in Fairfax County, Virginia. This historic church, built in 1863 by William Edmund Barrett, was once the central meeting place for slaves, and continued to serve as a meeting place for African Americans long after slavery ended. Clifton Primitive's first elder was John Belle.
During its earlier years, Clifton Primitive Baptist Church held regular worship services and provided a place for funerals to be held. Later the church was utilized for other gather- ings, such as hosting visiting churches and holding Association meetings.


Clifton Primitive Baptist Church (View 1)

In 1880, Clifton Primitive joined the Cub Run Primitive Baptist Association, an organization that has many duties. It assists in presenting the constitutional aspects pertaining to the church, maintains doctrinal statements, conducts meetings and record minutes for those meetings, and it is involved in many other activities associated with member churches. Cub Run Primitive Baptist Association remains organized and is still active today.
Clifton Primitive Baptist Church was the cent of activity in many people's lives, and for them it became the final place of their earthly journey. Some who attended and were later funeralized at Clifton Primitive were members of the Beckwith, Bowles, Duncan, Harris, Hughes, and Toomer families. The last funeral held at the church was in the fall of 1957.
Elder Lorenzo Vaughn, who holds dual roles, is both the pastor of Clifton Primitive Baptist Church and the moderator of Cub Run Primitive Baptist Association, to which Clifton Primitive is still a member. According to Elder Vaughn, worship services at Clifton Primitive are only held on the fourth Sunday of each month at 11:00 A.M. However, he plans to
increase the number of Sunday worship services in the future.
Clifton, Virginia is a small historic town southwest of Fairfax City Courthouse. It now consists of 200 families and has been documented as founded by an emancipated slave, William Beckwith. If you desire to visit



Clifton Primitive Baptist Church (View 2)

historic Clifton, as well as see the church, which is located at 7600 Main Street, please do so. You will be able to observe many interesting interior items, including ancient hand-made pews. These pews were designed and made by the late William E. Beckwith, grandson of the original founder and majority land owner of Clifton.

---
YOUR HISTORY
by
J.A. Rogers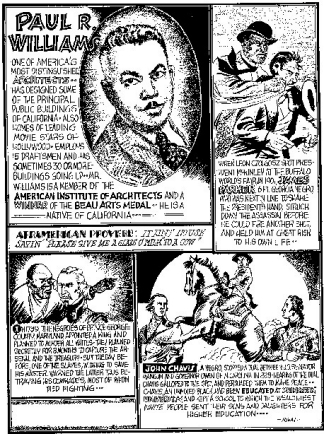 From J.A. Rogers. Your History from the Beginning to the Present
(The Pittsburgh Courier Publishing Co., 1940). Reprinted from the
original collection of Heru-Ka Anu, 1983.
Those who do not know their history are doomed to repeat it.

– Santayana
---
Family Enterprises On the Move
With this issue, the News Quarterly introduces a new series that will highlight business ventures members of the Robin- son–Naylor–Harris family are engaged in. We initiate the series by high- lighting the business of "Duku" Warren Allen, son of Gladys D. McMath (Allen) and grandson of Annie P. Allen of Washington, DC. We are also highlighting the busi- ness activities of the Crosby Brothers – Fred and Ricky, the sons of Fred and Sweetie Crosby of Ohio, and Kofi Khemet, the son of Edward and Shirley Crosby.


Blue Nile Enterprises

In 1974, the name Blue Nile appeared on a building located at 2826 Georgia Avenue NW, in Washington, DC. The brother and owner who decided on the name Blue Nile is Duku (a.k.a. Warren Allen) He arrived at this name for his new business from several influences. Firstly, his favorite color is blue. Secondly, he was inspired by a jazz recording entitled ''BIue Nile" that Was performed by musician Alice Coltrane. And finally, he identified with the African continent and its historical Blue Nile River. The spirit of this venture set the stage for the next two decades of service and conscious- ness-raising that continues in the greater Washington, D.C. area and beyond.
Opening the doors of this fledging enterprise was not an easy task for this ex-military air- man, former government employee, and student of architecture. With all this knowledge at his disposal, none of the mentioned skills guaran- teed his success.
Duku's natural energy and quest for spiri- tuality lead him to study Traditional African Religion. This and other areas of spirituality helped him to develop a higher level of self- confidence and consciousness. He was also guided by experienced business profession- als.
Today, some twenty-four years later, what once started out as a small manufacturing and wholesale outlet for incense and oils, has grown into a well-run, ever-growing retail sales enter- prise. Blue Nile is a place where one can purchase quality incense/fragrances, over 300 bulk herbs, spices, books, candles, and holistic health care products.
The success of Blue Nile did not evolve without the creative energy of Black women. Lending support, ideas, and the spirit to push the business forward was his wife Rosecleer. Strong and supportive assistance also came from three family members of 'Duku' Warren Allen. They are his mother Gladys McMath, Grandmother Annie P. Allen (92 years young), and Aunt Florence Garrison (who died in 1994). Brother Kwaku, a master jeweler and crafts- person, added his loyal assistance and knowl- edge to the creative energies of the business.
Blue Nile is currently offering lectures, workshops, classes, and booksignings in its newly acquired building next door (2828). Blue Nile will also be expanding to three additional floors of retail space at its current locations. This expansion will be completed by early fall of 1998.
'Duku' Warren Allen also has seven siblings living in Washington. DC and Atlanta, Georgia.
The address of Blue Nile is:

Blue Nile
2826 Georgia Avenue NW
Washington, DC 20001
Voice: (202) 232-3535
FAX: (202) 232-4433



---
Call & Post Deal Falls Through

After years of severe financial difficulties, including the last three years under bankruptcy protection the Call & Post, which operates black weeklies in Cleveland, Columbus and Cincinnati, will be auctioned off to the highest bidder.

The auction was conducted following a late bid from King Media Enterprises, Inc., based in Delaware and owned by boxing promoter Don King, a former Clevelander. King's bid put a serious wrench in a delicate, by-the-book campaign by the brothers James R. and Fred C. Crosby to purchase the company. Ricky Crosby, the leader of the Crosby team, earlier this year proposed to leave his urban tabloid, Cleveland Life to pursue the more venerable black weekly. For months, Ricky - who holds a master's degree in finance and has worked for Ameritrust and in the White administration's minority development center - carefully assem- bled his plan in concert with his brother, Fred, an attorney.
Their group emerged the winner from the first round of bidding, with an offer of $450,000. The Crosbys had lined up black luminaries such as Louis Stokes, the Urban League's Myron Robinson and Cleveland Roundtable's Darryl Tukufu to serve on an advisory board in the event they won control of the paper. Ricky Crosby was hardly a stranger to the contorted paths through which power twists through Cleveland's business/political nexus. He quickly found that George Forbes, the former Cleveland City Council president, was maneu- vering behind the scenes, searching for funds or buyers for the paper.
At the end of the day, King Media Enter- prises, Inc., won the auction with an eleventh hour bid of $760,000. There was little else the Crosbys could do after that kind of money entered the fray. There will, however, be other promising business ventures to challenge them.
---
Afrikan Love, Inc.

Afrikan Love, Inc. is a privately held Afrikan American owned and operated company, engaged in the sales and marketing of high quality fragrance and skin care products. Presently the company is a subsidiary of Marimba Productions, owned by Kofi Khemet. His line of fragrances has proven itself over, a ten-year period, to be quite popular within all age groups, nationalities and geographic locations. The company's goal is to capture a 1% share of the billions of dollars spent on perfumery and cosmetics in the U.S. market alone. Currently, there are very few major Afrikan American companies offering nationally known brand name fragrances or cosmetic products.
Kofi Khemet (aka Michael Crosby), the founder of Marimba Productions, has been a lover of fragrances since childhood. In 1986 Kofi began to experiment with various fragrances and combinations of fragrances and found some quite appealing to his overall clientele. After years of experimentation and successful sales he has begun to create his own personal line of fragrance blends and mixtures and is well on the way to mastery of this ancient art.
From the beginning in 1988 up to now, Kofi was the only staff member; he now has a second staff person involved in the immersion process. This is due in no small part to Kofi's invention of a device to simplify the entire process and allow other staff members to become involved in this formerly time consuming and tedious process.
Afrikan Love, Inc., is now based in the Seattle area at

964 Industry Drive
Seattle, WA 98188
Voice: (206) 575-0956
FAX: (206) 575-0957
e-Mail to: kkhemet@foxinternet.net

Visit the Afrikan Love Website at:


www.angelfire.com/biz/monsterstik/#A

Kofi Khemet has a B.A. in Pan-African Studies and an M.Ed in Higher Educational Admini- stration, both from Kent State University and post-graduate work in Ethnomusicology at UCLA.


"It is no disgrace to be black, but it's often very inconvenient."
– James Weldon Johnson


Marimba Productions was initially founded in 1980 as a producer of authentic Afrikan musical instruments, specializing in miniature Marimbas, popularly known as kalimbas, with fragrances as a sideline. The market was very limited for the instruments and the production of them was very labor intensive as well. He noted many of his customers were not burning his sticks. He found this to be unusual and upon inquiry found that his customers were letting them sit out for a couple weeks and then burning them. Some informed him that if they left their windows open even their neighbors could smell his fragrances before they burned them. These revelations led to his product being touted as "The World's Best No-Burn Incense."
"The World's Best No-Burn Incense" comes in various sizes and styles. There are 4 sizes of stick incense and 3 sizes of coils. Each of our no-burn sticks will work anywhere from 2-3 weeks per stick without burning. At the end of that time, they can still be lit and will be strong enough to overcome the smell of fish after cooking fish. Others simply placed a stick in their cars and it worked as a deodorizer for weeks. Afrikan Love's Super Jumbo Extra King Size Monster Stiks will work up to one year without burning.
The Afrikan Love has come a long way from its original street vendor location on Crenshaw Boulevard in Los Angeles, California. Seattle presents a much better business environment and a perfect place for him and his wife, Tanya to raise three young children.
---
Sing Praise Songs For Our Elders
An Obituary
Gertrude E. Peterson departed this life on Thursday, May 7, 1998 at the Olean General Hospital. She was born on May 10, 1933 in the town of Wirt to the late Jesse A. And Hettie E. Harris Peterson.
Ms. Peterson was employed at Castle Lighting in Rochester, worked for Acme Electric and also at St. Francis Hospital in the medical records office.
She was a former financial secretary for the Western New York Church of God in Christ, Jurisdiction 1. She was also a lifetime member of Sacred Temple Church of God in Christ where she was in the choir and was also a soloist. She also enjoyed knitting and crocheting.
She leaves to cherish her memory, a son, Shawn Andre Peterson of Olean, and four sisters: Delores L. (Morris) Clemons of Buffalo, Audrey M. (Serell) Gayton of Olean, Marlene V. (Robert) Childs of Piscataway, NJ, and Gloria M. (William) Clemons of Olean; two brothers, Walter L. (Barbara) Peterson of Olean and Jesse O. (Delores) Peterson of Piscataway, NJ; and many nieces and nephews. She was predeceased by a brother, William A. Peterson.
God saw the road was getting rough.
The hills were hard to climb.
He gently closed her loving eyes and
Whispered, peace be thine.
---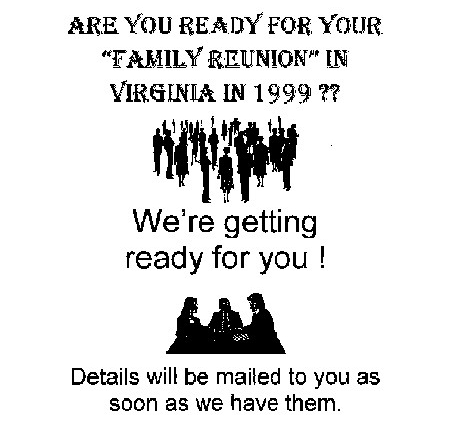 The people receiving the family News Quarterly will
be our primary mailing list. Are you on it?
---
Letters From Family
Cuz,
During one of the Virginia sessions of Robinson-Naylor-Harris reunions, I had the pleasure of meeting a lady who said she was Rick James's mother. Would it be possible to know whether Rick James is a Robinson, a Naylor or a Harris?
Thanks,
Mozell Harris
Editor's Note: Rick James's sister, Camille Robinson Hudson, lives at 4085 John P. Green, Cleveland, OH 44105. You can get an answer to your question by writing her or calling (216) 485-1571.
---
Hi Readers,

I would like to take this time to let you know of Mrs. Annie (Stewart) Allen's 92nd Birthday on July 5, 1998.
Congratulations from – Daughter, Gladys (Allen) McMath and all the Grands and Greatgrands.

Gladys

---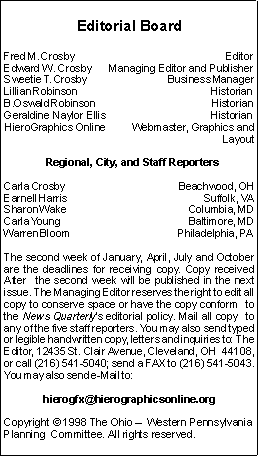 Go to Your History Online