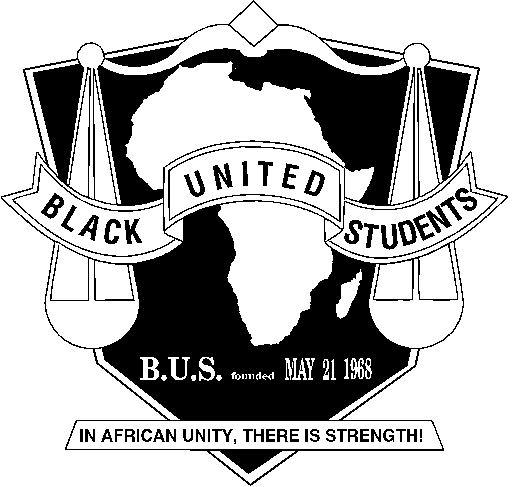 Date: 9/16/1997
To: The Executive Board of Black United Students
From: Sarah Spain – Former Editor of UHURU Magazine
Jason Shelton – Former BUS President
Purpose: FIVE REASONS WHY BUS SHOULD MOVE "BACK HOME"

1. The ultimate exercise of Black unity on campus would be for Black United Students to move back to the Department of Pan African Studies (Oscar Ritchie Hall). This move would physically unite BUS with the Institute for African American Affairs and the Center for Pan African Culture, which BUS already uses for Mass Meetings and other programming. This move would also empower the KSU Black community with a centralized political, cultural and social base.
2. A BUS move to DPAS would bring us back to our Elders, Educators and true student sup- porters on a daily basis. This closeness would provide growth for all Executive Boards due to this interaction and would encourage more student involvement from within the Department (i.e., PAS majors). This is not necessarily found in the Student Center, which is a primarily social environment.
3. Oscar Ritchie Hall as a tighter, more contained arena would provide an atmosphere that is politically and philosophically more conducive to the purpose and mission of BUS. With the presence of BUS in the Department, the urgency for quicker development regarding the second floor of ORH will heighten. This move will also be a catalyst for progressive changes that need to be made within DPAS.
4. For many years, there has been strong support from faculty, staff and students regarding the issue of BUS's move "back home". Perhaps a survey or petition drive could be imple- mented to assess the desires of Black students. This type of proactivity would not only show support for BUS's possible move, but would also reinforce our unity.
5. Though there are pros and cons to a repatriation back to DPAS, the advan-tages far out- weigh the disadvantages. The enormous importance and implications of this decision cannot be ignored. A move of this magnitude would show the entire University that Black United Stu- dents is strongly committed to the growth and develop-ment of the KSU Black community. Across the country, Black Studies departments and Student Unions are being dismantled in the name of multiculturalism, which dilutes the strength of Black power. Kent State University is not protected from this. The future of our community as a whole (DPAS, IAAA, BUS, etc.) depends on the decisions that our leaders will make at this crucial point in our history. Given these five points, Black United Students must seriously consider moving "back home" to Oscar Ritchie Hall.