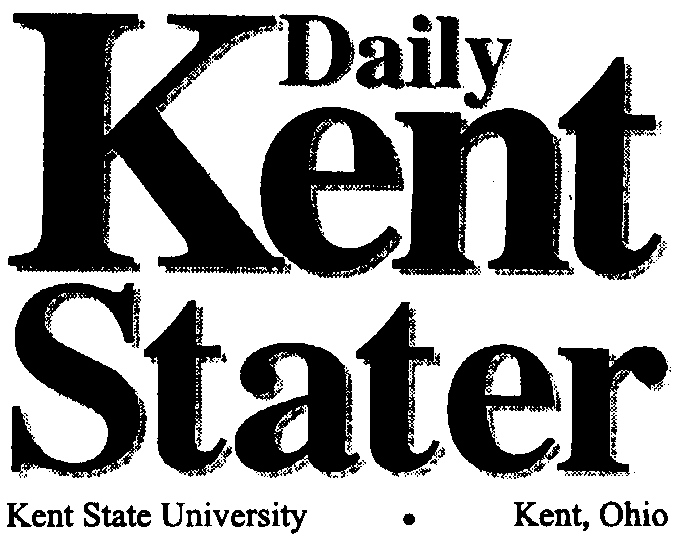 Black Tuesday Protest!
A BUS sit-in at library

Karen L. Motby
Staff Writer
Friday, April 5, 1996

It all began two weeks ago when Black United Students held its "Black Tuesday" unity march from Oscar Ritchie Hall to the Kent Student Center plaza.
Then administrators met with BUS members Wednesday to discuss issues of racial tension identified during the march. BUS members expected to meet again with administration at a noon forum Thursday in the Kiva.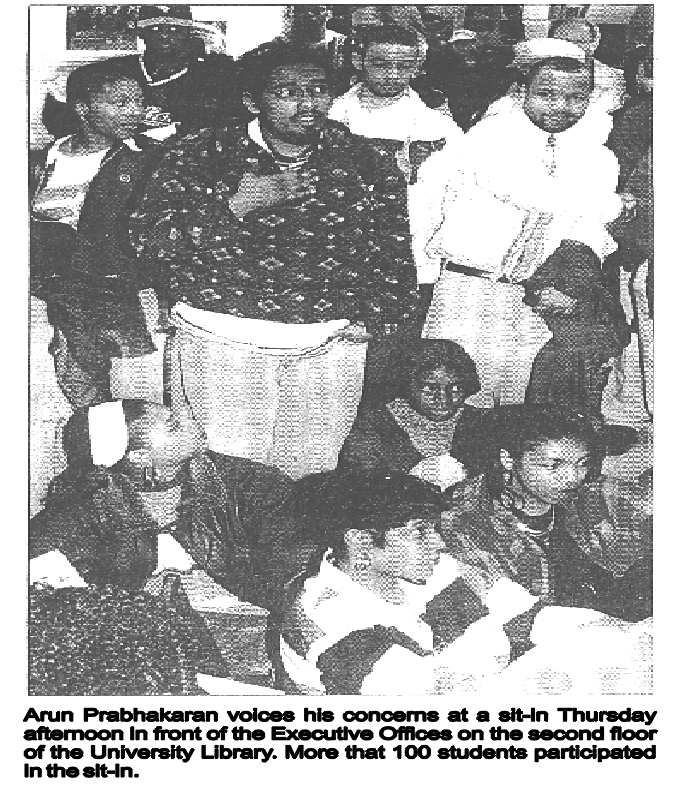 None of the administrators were there.
"Black United Students, it is April 4, 1996, and we have been had by the Kent State administration," said Rashid Mitchum. vice president of BUS. He said members of the BUS executive board had just found out many of the administrators were out of town.
Members then walked across the plaza to the Executive Offices on the second floor of the University Library and held a sit-in when they discovered the office doors were locked.
At about 1:15 p.m., Sheryl Smyth. director of the Office of Campus Life, and Kent State Provost Myron Henry arrived at the Executive Offices. The two answered questions that BUS members raised for more than an hour, and then they agreed to meet inside the offices in a conference room
Henry later said he believed there was a clear understanding at Wednesday's meeting that there would be more dialogue between the administrators and BUS, and problems would be solved through additional meetings.
"I certainly will receive any dialogue you want to discuss," he said. 'There have been meaningful discussions including last night, but I would be happy to receive whatever you have discussed."
BUS President Perkins Pringle explained that the students were drained from having discussions with the administration, and they wanted to see action.
We've been meeting too long, and it's time for action to take place," Pringle said. We are tired of sitting in meetings with you.
We have a list of demands There has been no movement made on these demands that we have, and we are going to sit here until you have met them. All these things. Provost Henry, that you see happening is the hurt and pain we've had throughout the years.
From 3 p.m. until 5 p.m., BUS members discussed the issues with Smyth; Henry; Charles Greene, vice president of Human Resources; and Noah Midamba, dean for Enrollment Management.
BUS had scheduled the noon forum with Henry, Smith and the following administrators: President Carol Cartwright; Nancy Scott, vice president and dean of enrollment management and student life; Terry Kuhn of Undergraduate Studies; and Ray Flynn, coordinator of Judicial Affairs.
At the forum in the Kiva, Mitchum announced a list of demands in addition to the ones already identified at Black Tuesday's march, and he said these demands needed to be met by the administrators.
"The members of Black United Students executive board have drawn this proposal to restore and ease race relations, academic and social life for African-American students," Mitchum read. "The goal of Black Tuesday and Black Thursday is to create a better living, academic and social environment for all students."
The first demand is to have Ray Torongeau, coordinator of the New Front Residence Hall Area, removed from his position .
BUS officials question the process Torongeau took to file grievance charges regarding an incident of racial harassment. When contacted Thursday night, Torongeau refused to comment.
The day after Black Tuesday, Cameron Miller, Political Thought chairman of BUS. met with Scott to discuss the racial harassment issue in Engleman Hall and how the members of the Afrikan Council of Engleman Hall were dealing with racial tension in the residence hall.
BUS had other demands. including: the institution of a public defender for the Judicial Affairs system to aid students during the court process: The hiring of more black faculty and staff to teach in the Pan-African Studies Department; sole possession of the second floor of Oscar Ritchie Hall; renovations to the theater in Franklin Hall, where the Mbárí Mbáyò players perform; and a better recruit- ment and retention program for African-American students.
Regarding Philip Parker, a student who was suspended from Kent State in November for trying to steal a dictionary out of the library, BUS wants Parker's case to be reviewed by someone outside of the Judicial Affairs system, and, if he is found not guilty, they demand he be reinstated with two free semesters of classes.
BUS also wants block funding on its traditional programs. such as the Ebony Achievement Awards and African American Heritage Week.
Henry later said BUS's five main issues brought up during the Black Tuesday march should be brought to the table at a meeting scheduled for April 12.
State Rep. Vernon Sykes was in the library doing research when he saw what was going on and decided to act as a liaison between the students and the administrators.
"I found that I could be a facilitator to assist with some resolutions to make sure the concerns of the students do not dissipate and go away," Sykes said. "I made a commitment (today) to advocate to students, the president and the Board of Trustees."
Sykes said he has worked with students at the University of Akron on similar issues and is willing to work with Kent State.