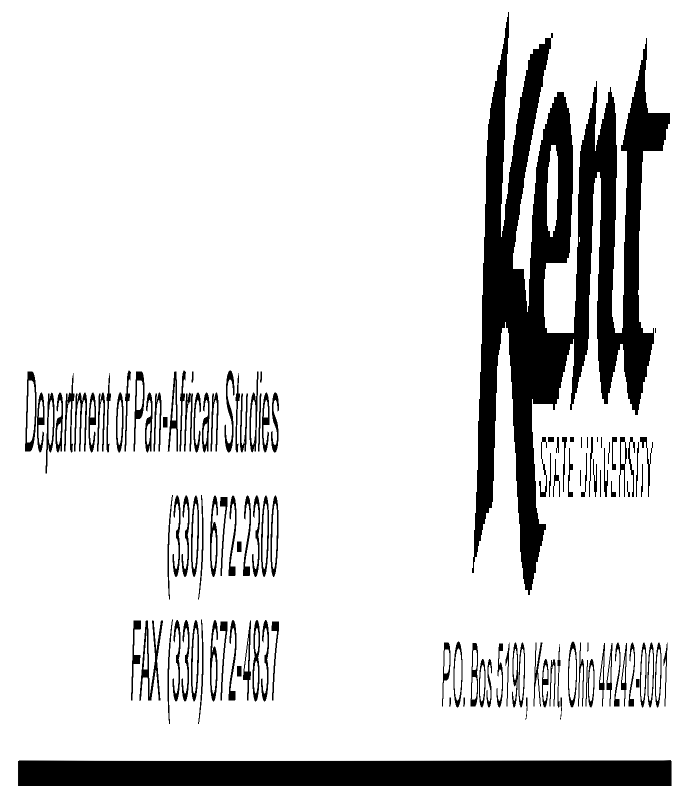 December 18, 1996

Dr. Stephane E. Booth, President
AAUP - Kent State University Chapter
1100 East Summit Street

Kent, Ohio 44240

Dear Dr. Booth:

It is indeed unfortunate that the undersigned faculty of the Department of Pan-African Studies have concluded that they can no longer tolerate the continuous violation of faculty governance policies and procedures itemized in the Collective Bargaining Agreement as promulgated in 1995, the University Register, and the Department's Faculty Handbook (approved by the College of Arts and Sciences in 1984 and revised in 1993 or 1994). The AAUP Chapter should be informed that we have discussed our grievances with the provost and the dean. While Dean Danks is sensitive to our dilemma, some members of the central administration have resorted to intimidation or treated our complaints with benign neglect. Furthermore, Dr. Garrison's policy violations demonstrate his lack of administrative skills, his lack of familiarity with the mission of Africana Studies in general, and the Department of Pan-African Studies in particular. Even though this is not the place to list every violation the chairperson has committed, we do feel it is incumbent on us, however, to list some of his most flagrant violations of policy. This is what follows:
Dr. Garrison has usurped the function and purpose of the FAC's ability to recommend new faculty and staff hirings. In some recent instances, the chair has issued letters of hire before the FAC has a chance to interview candiates, Dr. Garrison has failed to carry out his responsibility to inform his faculty about University sponsored research opportunities, faculty development research awards, i.e., sabbaticals, intercession and summer teaching possibilities; Dr. Garrison fails to follow the University's tenure and promotion procedures. He has failed to respond to deadlines and fails to discuss critical policy issues with the FAC, the curriculum committee, and departmental division heads. Documents requested by the College dean, for instance, are as a standard practice turned in late and to date he has failed to discuss the Department's Mission Statement with the faculty;
Dr. Garrison persists in assigning individuals to teach courses after the Department's curriculum committee has deemed the individuals unprepared in the specific teaching requirements for a given course. The chair dismisses any complaints by faculty, saying that the Department is not a democracy and that as the chair, his is the only judgement that must be responded to.
Dr. Garrison makes decisions impacting or committing the Department and its faculty/staff without first seeking the faculty/staff's advice or consent.
Dr. Garrison has unilaterally decided to bar emeritus faculty and the Department's graduate assistants from all faculty/staff meetings. However, he still allows undergraduate officers of the Black United Students to attend all meetings.
As mentioned earlier on, we are calling for the extraordinary review of Dr. Garrison for the numerous violations of University policy as outlined in the Collective Bargaining Agreement, the DPAS Faculty Handbook, and the University Register. Additional policy violations not mentioned above are the following: 1. Disregards nonreappointment and dismissal procedures; 2. Fails to properly allocate academic staff; 3. Disrespects the departmental curriculum and/or the intense need for program evolution; 4. Vitiates policies governing faculty evaluations relative to salary and merit increases; 5. Fails to follow established budget priorities and guidelines; 6. Fails to inform himself on faculty teaching areas and service on departmental, university and community-based committees; 7. Administers the Department without regard to the establishment and maintenance of the academic unit handbook; 8. Fails to insure that students are properly advised; 9. Disregards previously established instructional quality standards; and 10. Flaunts his responsibility to insure that class schedules and sizes are recommended by the FAC and that office hours and associated departmental duties of faculty members are held.

Sincerely

Dr. Fran Dorsey
Dr. Jacqueline Rowser
Dr. Diedre Badejo
Prof. Mwatabu Okantah

cc: Dr. Joseph Danks, Dean, College of Arts and Sciences