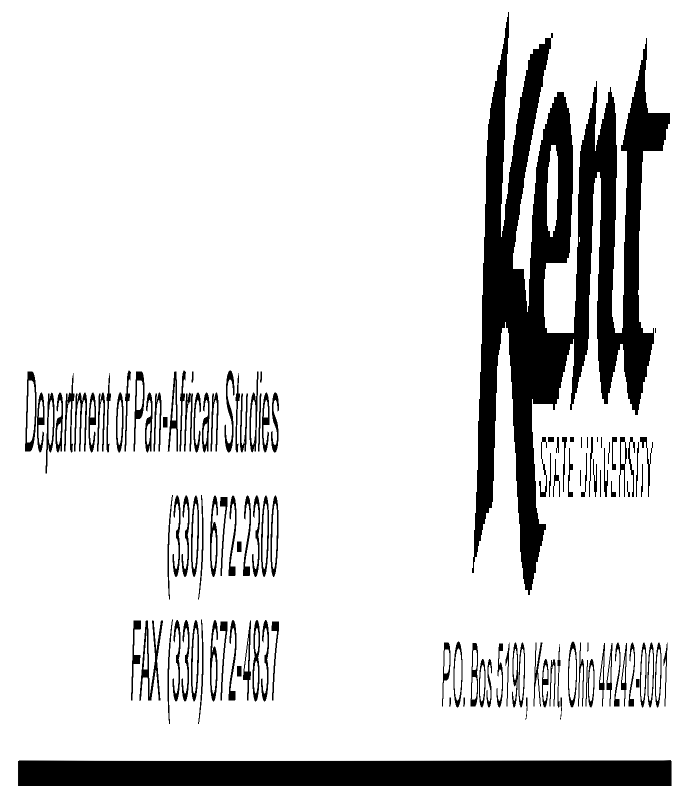 Confidential
26 February,1996
Dr. Edward W. Crosby
Managing Editor, Kitabu
DPAS/KSU
Kent, Oh. 44242
Dear Ed:
This acknowledges receipt of your memo of 14 February 1996. I did not respond earlier, because I have been out of town for most of the last two weeks, and have not had the clarity of mind to reply to your letter in the proper manner.
Let me first say that I accept your apology, and perhaps I should take this opportunity to share some of my thoughts with you. I knew when I took this job that it was not going to be easy — not because the responsibilities of the position were so complex or demanding to me, for I knew that I had the requisite experience and training that would allow me to handle the demands of such a position, but because:
a) you were not retiring and moving away, but would maintain continuous contact with the Department;

b) I knew that there would be a split loyalty with my faculty and staff, relative to you and and me;

c) I felt that I would be closely scrutinized by competing, and some times diver- gent interest entities —You, the faculty and staff, students, administrators, enemies of the Department (on and off campus), various members of the Pan African Community, my colleagues outside the Department, etc.)

d) my personality is quite different from yours, and this could be the source of misunderstanding;

e) My tactics and strategies for moving the Department along are different than yours have been, and both of us, I believe, can demonstrate past success;

f) I have a different vision about running the Department, its relationship to other units on campus and the dynamics that must exist between the Chair, the Administration and other colleagues.
I respect you, Shirley and Wiley, and the work that you did. The honor that those contribu- tions and that legacy deserves, is never in jeopardy with me. It is important for you, and my faculty and staff, to know, however, that when the responsibility of leadership and admini- stration falls on me, I take it seriously, and move into place to assume the role. It is a matter of pride and from a deep sense of duty that I work to succeed.

During the past year, I have attempted to move slowly, but methodically — trying not to make abrupt changes of policy or modus operandi. It has become increasingly clear, however, that I need the proper space and cooperation from my faculty and staff, if I am to be able to leave to DPAS and KSU, the contribution that I am capable of making. A lot depend [sic] on you — your posture, attitude and communication with members of this staff, and a lot depend [sic] on those members of my faculty and staff who are not in step with me.

I do not want to give the impression that I think that all of the problem is with others, and none of it resides with me. I make mistakes, like everyone else. I have not met the man or woman who is perfect. But, throughout my twenty years of teaching in Higher Education, I have always respected those in authority, and those who have been given the responsibility of leadership and administration. And I expect the same from those who work in this Department. I believe that faculty and staff have a professional duty to work cooperatively with whomever is in charge.

It is too soon to assess whether or not I have done my duty relative to DPAS. There will come a time when not only others, but more importantly to me, I will assess my performance. It is not my intention to leave this Department worst than what I inherited; and I doubt seriously that any objective assessment will conclude that, in the end. But we will see.

I accept your offer to sit down and discuss any concerns that you might have about the current direction of the Department. I will accept, and consider any positive input from you or others. All have to understand, however, that it is ultimately I who have to answer for all that happens in DPAS. I have to do all that I can to protect the channels, relationships, trust and basic understandings between me and this Department, on the one hand, and others who are critical to the success ofthis Department, on the other. Additionally, it is my reputation that is on the line, and I am mindful of that at all times.

Whenever you feel the necessity for us to meet, just let me know, and it can be arranged.

Sincerely,

/s/ George R. Garrison

George R. Garrison