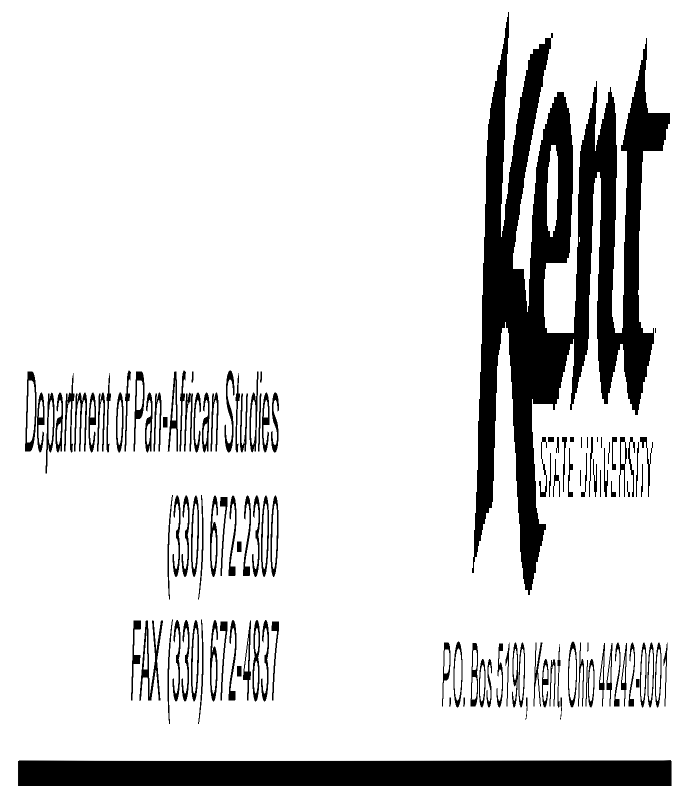 February 5, 1997
Dr. Joseph Danks, Dean
College of Arts & Sciences
104 Bowman Hall
Dean Danks:
Greetings. Please forgive the delay in writing this letter. It has taken a little longer than I antici- pated to thoroughly think through my thoughts. Although I have been teaching for twenty years, I had never been a full-time faculty member anywhere until this academic year. I have chosen to teach part-time because I am essentially a performance poet/writer who teaches. I have published five poetry titles (two of which are still in print). My latest work, due out some time this year, has been translated into French and the African language, Wolof. I should also say that before returning to KSU in 1991, I served as Assistant to the Director of CSU's Black Studies Program for seven and a half years.
My relationship to DPAS is unique. I am a KSU graduate. As a student, I participated in the creation of what is now a degree granting academic unit. Because we are a department that was created by students for students, we have never functioned like other departments on this campus. The department is housed within the Center of Pan-African Culture because, as black students living in what is essentially a hostile environment, we needed so much more than mere academic training. Ultimately, we were motivated by our own perceptions of our needs. As such, Dr. Crosby's founding of the original Institute for African American Affairs (IAAA) must be seen and understood in direct relation to black student demands.
Philosophically, we are an African centered institution. This is to say the approach to what we do here is rooted in Nigeria's Chief Fela Sowande's model, "The Africanization of Black Studies." He writes, "I see the Africanization of Black Studies as requiring the restructuring of Black Studies — a total restructuring if need be — so that it rests on the traditional thought- patterns of traditional Africa, which thereby becomes its reason for being, its life-essence, the actualization of these thought-patterns in the day to day lives of common folks being its spe- cific objective, to achieve which nothing will be allowed to be an insurmountable obstacle."
He states further that "this Africanization is not to be regarded as a political platform or a new ideology; it is not to be approached in the manner of the chef who adds a little more of this or that to the soup that is all but cooked on the stove; it is not to be confused with the adoption of African names or dress-styles, although these may have their place in it, but Africanization means the total adoption of the World-View of traditional Africa as the foundation on which to build. Such adoption will require substantial changes in our ways of thought and of action; it will require the jettisoning of many of our prejudices and fond beliefs, and it is here that the real problems will arise."
For me, it is on this fundamental level that Dr. Garrison has shown no understanding of the foundation of our historical mission. It is on this basic level that we are unlike other Black Studies Programs nationally. Dr. Garrison's attempt to turn us into a "department like other departments on campus" is contrary to our stated mission. I have observed Dr. Garrison from a distance, as a part-timer, for more than a year. As a full-time faculty member for the past semester, I have only had my initial reservations confirmed. Dr. Garrison is woefully out of touch with his faculty and staff, as well as our students because he has failed to take the necessary time to come to know us.
On a personal level, I think Dr. Garrison is essentially a nice man. However, as an admini- strator, and, more importantly, as chair of this department, I have no confidence in his leader- ship and I find his judgement suspect. In a very real sense, he has become the chief obstacle standing in the way of our growth and progress. In all honesty, I do not think a retreat will offer a solution to our problems. I signed the letter calling for an extraordinary review of Dr. Garrison because I sincerely believe his removal as chair is in the best long term interests of this department.
I hope this letter is not too long. I thought it was important to give you a sense of my position in all of this. Thank you very much for your time and consideration.
Sincerely,
/s/ Mwatabu S. Okantah
Mwatabu S. Okantah